The legal community found itself in unprecedented times during the pandemic as well as after.
However, the years after are proving to be the rebound year based on a Legal Trends report published by Clio.
"…the number of hours billed to clients was up by an average of 28% compared to 2019, and average collected revenue was up by 31%, meaning that every hour of legal work has become more valuable to firms overall."
Average Hourly Rates for Legal Services
| | | | |
| --- | --- | --- | --- |
| State | Law Firms | Lawyers | Non-Lawyers |
| New York | $359 | $378 | $211 |
| New Jersey | $310 | $330 | $167 |
Leveraging Per Diem Attorneys for Appearances to Increase Billable Hours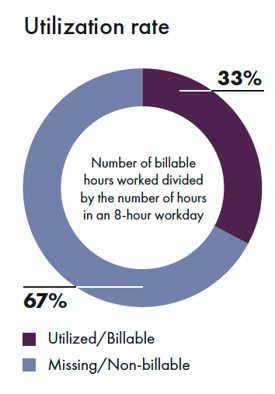 Utilizing a Per Diem Attorney to appear on you or your firm's behalf can actually increase the amount of billable hours by freeing up utilization capacity and increasing revenue.
Let's look at a scenario to see how.
James is a senior attorney in NY, who is billable at a rate of $350 per hour, can increase his billable time by utilizing a per diem attorney.
Assuming a 40 hour work week (we know, but stick with us), that equates to about 13 hours per week of billable time or $4,620 (13*$350) based on the 33% utilization rate average for the industry.
If James has to appear in court to file a motion in a criminal case, that could take him 2-3 hours depending on travel and court schedule. While some of that time might be billable, James isn't doing anything else to impact his utilization rate. For the benefit of this example, we'll say 2 hours were actually billable, equaling $700.
Using a per diem, James could have saved himself the time and, for a flat rate cost of $350, still netted $350 in total billable time to the client.
Since he did not have to personally attend the appearance, James was freed up to work on another matter and log two more hours of billable time. Those two hours were worth another $700.
So, by using a per diem to cover his appearance, James was actually able to bill the following:
Billable Time for Motion in Criminal Case = $700

Billable time on another case = $700

Minus Per Diem Fee = $350
This is a 50% increase in billable time through the use of a per diem attorney to cover his appearance.
What are the Most Common Types of Per Diem Appearances?
We've analyzed a year's worth of per diem coverage appearances logged in our system and have found the following types of appearances to be the most common.
ZR Per Diem's Most Common Coverage Types in 2022
Virtual Depositions

In-Person Motions

In-Person Standard Conference

In-Person Foreclosure Conference

Virtual - Standard Conference

Virtual - Foreclosure Conference
How To Use a Per Diem Attorney
You can start to take advantage of per diem attorneys to improve your utilization rates (or cover for you if you're out of the office on vacation or attending to other matters). Through services like those provided by ZR Per Diem, you can easily create an account, submit your coverage request and take advantage of the free time to focus on other billable projects and drive your utilization rates higher.
Additional Resources:
Legal Trends report published by Clio.
Average Billing Rate for New Jersey