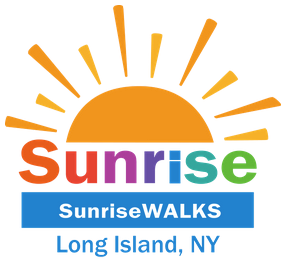 Since 2019, the Sunrise Association and Sunrise Walk, Long Island has been an organization held in high regard by ZR Per Diem Services and its entire staff. In 2020, ZR began playing an active role in the Sunrise Mission, wanting to bring as much joy to the lives of kids with cancer, by sending them and their siblings to a free summer day camp. Connie Rinaldi spearheaded the campaign bringing the ZRPD staff to the scheduled walk last year.
Our team was so excited to be working together on such an important project. We had started forming teams, raising awareness, fundraising and setting goals, when Covid-19 shut down the world, says Shannon Thomas, team liaison to Sunrise Association. We even had our t-shirts ordered, says Thomas. Everyone was so disappointed that Sunrise Walks couldn't take place the way it was planned in 2020, not to mention the let down of having to cancel our team's participation.
Times have changed in a year, but the commitment to Sunrise Association remains strong in the ZRPD family. Connie Rinalid and her family have spearheaded participation in Sunrise Walks, by serving as Event Chair for Long Island. This year, Connie was the Sunrise Spokesperson for the Virtual Corporate Kick Off this year, bringing local businesses into the Sunrise Walk for 2021.
For years ZRPD had done collections for Toys for Tots, raised funds for soup kitchens, but now it was time to participate in something bigger, says Rinalid. The mission of Sunrise was the perfect fit for ZRPD and even more important in 2021.
Sponsoring Sunrise is a real opportunity for any company to team build, improve morale, and rebuild connection between staff members, especially during this time when connection is desperately needed. And Sunrise makes it easy to implement your company's efforts. The multitude of benefits that come from aligning your company with Sunrise make the decision to become a sponsor easy.
Since 2006, Sunrise has served over 16,000 children with cancer and their siblings by providing either full summer day camps word-wide and 43 Sunrise on Wheels, in hospital programs in 21 hospitals. During Covid, Sunrise has developed Virtual Camps, Sunrise Screens, bringing virtual programming into homes and hospitals, travel adventure videos and Surprises from Sunrise, bringing gift packages to children in hospitals.
All of these services to children with cancer and their families are free of charge. Join in the WALK this year
JOIN the Sorscher Team, The Terrapins
CREATE your own SurniseWALKs team
-
DONATE to SunriseWALKS
EMAIL for Corporate partner/sponsorship
To read about Sunrises' Camper Ambassador Family, click here.
Learn more about The Sunrise Association and the work they do here.