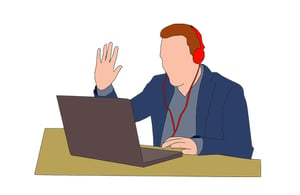 The litigation landscape has certainly changed from what it was a year ago. Since March, 2020, judges, court personal, attorneys and clients have had to adjust to a virtual world that has been both changing everyday and moving very slowly.
While in the past month or two we've begun seeing an increase in the volume of virtual court appearances and depositions, the progress on most lawsuits has been slow.
A lot of our clients have told us that they are working hard to schedule discovery and deposition dates, independent of court orders, to try to bring some resolution to their matters and bring some relief to their clients. But many have found that conducting virtual depositions presents its own set of challenges.
That is where having a service like ZR Per Diem on your team comes in handy. Our staff and our roster of experienced attorneys has been handling this virtual world from the start and we've become familiar with the benefits and difficulties of living in a virtual legal system.
First and foremost, our per diem deposition coverage attorneys know and have solutions for the challenges that virtual testimony presents. Here are just a few examples of why you want an experienced virtual attorney on your case:
Basic Logistics and Internet Service for Virtual Depositions

While remote or video conference depositions have some inherent technical challenges that may be beyond any practitioners control, knowing what to expect and understanding how to troubleshoot problems that arise make working with an experienced professional important.
"So many clients have told us that when it came time to log onto a deposition, they didn't really understand how the technology worked and couldn't get into the scheduled appearance." says Cesar Zunia, Co-Founder and Managing Director of ZR Per Diem Services and all around tech guru. "Our per diem deposition attorneys have conducted a lot of these video conferencing depositions by now and they can access scheduled deposition and court appearance dates quickly and easily without the added pressure and stress of using an unfamiliar platform."
Knowing how to use a closed chat room or a breakout meeting window to prepare a client to testify and being comfortable with knowing when or whether someone else might be listening is vitally important to having a client who is ready to testify and who knows they can communicate with counsel privately if the need arises.
Working with a professional who is nimble in their use of the technology can be the difference between a stressful experience filled with technological glitches and smooth sailing through your client's deposition testimony.
Sharing and Using Exhibits During Virtual Depositions

In face-to-face depositions, the attorney taking the deposition can easily share hard copies of various exhibits to use in soliciting testimony. In a virtual setting, knowing that all of the parties are looking at the same document can present unique challenges and impact the credibility of the witness testifying.
Having an attorney who is familiar with using screen sharing tools to make the most out of working with an exhibit and insure that no questions arise when a trial date comes around as to which exhibit was being used at a crucial moment of testimony.
Assessing Credibility Virtually

It can be more challenging to assess a witness's credibility and even make sure their answers are their own when you are in an online setting. It takes experience to know how to work around this type of issue and knowing what to require of all parties involved to protect the integrity of the testimony.
Using strategies like insisting that the deponent and opposing counsel each have their own camera can help in giving the attorneys some level of comfort that the witness is not being coached. Being prepared in advance of the deposition so that you can focus on the screen and not on your notes is another strategy for keeping on line testimony above board.
Benefits of Using Per Diem Coverage for Virtual Depositions
Familiarity with technology required for online teleconference depositions;

Avoid the hours of boring, repetitive testimony that isn't relevant to your case;

No more hours of listening to useless questioning by multiple attorneys;

Spend your time on more productive work;

Get the expertise of a seasoned litigator without the cost of hiring more associates;

Focus on building your business.

Competitive Deposition Prices saves you time and money;

Multi witness coverage provides consistency in the handling of your depositions;

No need to unnecessarily adjourn and delay cases because your office can't move forward with scheduled depositions;

Avoid unnecessary motions enforcing depositions because you don't have the time to get to everything on your calendar;

No more embarrassing court appearances where the Judge admonishes you because your depositions have been delayed.

Expand your practice into areas you wouldn't otherwise handle with outside experts available to handle your depositions.
Where Do I Go To Learn More About Virtual Depositions?
We've compiled more information to help you find resources to schedule and cover virtual deposition appearances. Learn more here and please let us know if we can answer any questions you might have.